Tel: +86 371-67991755
Fax: +86 371-67993277
Sales direct: +86 15838331071
E-mail:sales@battemachinery.com
http://www.continuousscreenchanger.com
24h services
Continuous Filter
Continuous Filter can be used with different standard extruder, This continuous screen changer consists of a perforated plate bearing alloy, porous plate installed on the plate or column type of carrier. The carrier may be moving to work in a system location and off-line switching between non-work position.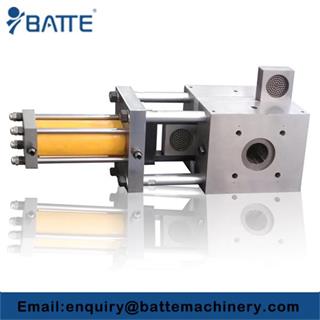 Continuous Filter Features:
1. Time to 2 seconds or less, to rapidly replace the filter area from diameter choose between 30 mm -diameter 250 mm.
2. High wear resistance, high pressure, high precision continuous screen changer design, improve the quality of the effective area and filtering.
3. 25-30 mpa pressure, under the condition of temperature 300 ℃, does not affect performance.
Continuous Filter adapt almost all of the polymer, such as: PC, PMMA, PET, PS, PU, PP, PE, EVA, ABS, PVC, etc

Relative Articles:
◆Dual bolts screen changer
◆Backflush Continuous Screen Changers
◆Hydraulic Screen Changer Manufacturers
◆Non-Stop Plate Screen Changer