Tel: +86 371-67991755
Fax: +86 371-67993277
Sales direct: +86 15838331071
E-mail:sales@battemachinery.com
http://www.continuousscreenchanger.com
24h services
How automatic extrusion screen changer works
Automatic extrusion screen changer
is truly continuous screen changer, which is mounted between the end flange of the extruder and the die.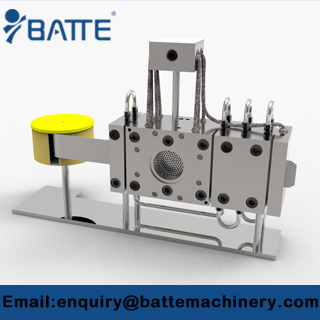 The automatic extrusion continuous screen changers filter material enters the main body of the screen changer from its storage canister holding either 66' or 125 ' of rolled screen filter material. It passes across the flow channel and then exits the ScreenChanger body carrying with it any contaminates.
Automatic extrusion screen changer is automatic belt mesh screen changer, which is used generally depends on the resin, levels of contamination, pressure related issues, and processing requirements.

Relative Articles:
◆Backflush Continuous Screen Changers
◆Hydraulic Screen Changer Manufacturers
◆Continuous Rotary Screen Changer
◆Continuous Hydraulic Screen Changer For Extruder