Tel: +86 371-67991755
Fax: +86 371-67993277
Sales direct: +86 15838331071
E-mail:sales@battemachinery.com
http://www.continuousscreenchanger.com
24h services
Non-Stop Plate Screen Changer
Non-stop plate screen changer is a type of
hydraulic screen changer
,Which
realizes a non-stopping screen changing operation by altering two pistons with double filtering areas. During production, the polymer melt is divided into two flow channels inside the screen changer housing, then conveyed through the screen changer filters equipped with the appropriate filter medium.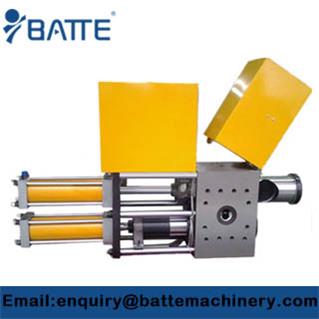 Features Of Non-Stop Plate Screen Changer:
1. Special sealed structure design,excellent effect, no material leakage for more than five years.
2. Dual channels for filtration, no need to stop the working machine when changing the screen, no production interrupt, and more efficiency and less energy consumption without any defective product.
3. Simple construction, reliable operation; Easy maintenance, lower running cost;
4. The function of filling material exhaust and pollution discharge guarantee the process of replacing
non-stop plate screen changer
continuously.
Especially appropriate for the production of cast film, plate and sheet.This continuous screen changer
filter medium consists of screen packs supported by breaker plates.Exhaust system device can fully defuse the gas mixed in the materials and improve the product quality.
Relative Articles:
◆Extrusion continuous screen changer
◆Continuous Rotary Screen Changer
◆Extruder Pump Screen Changer
◆Polymer Continuous Screen Changers