Tel: +86 371-67991755
Fax: +86 371-67993277
Sales direct: +86 15838331071
E-mail:sales@battemachinery.com
http://www.continuousscreenchanger.com
24h services
Hydraulic Screen Changer Manufacturers
As a hydraulic screen changer manufacturers,Batte many continuous screen changers can be used with all kinds of sol, adhesives, finishing materials and
other admixtures production line supporting material for blending filter, the filter
can be replaced without stopping the machine.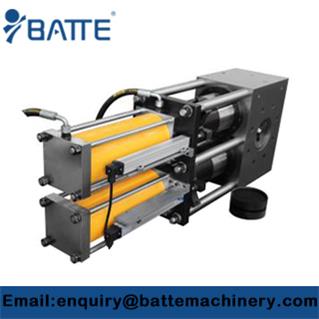 Batte Hydraulic Screen Changer Applications:
Batte hydraulic screen changer can be used in plastics, chemical fiber,
rubber, hot melt adhesives, adhesives, coating materials, admixtures and other
products of the viscous flow filtration, blending and processing, easy to replace
filters, increase , energy saving, no leakage of material, while saving time and
labor. Changer main parts made of superhard materials from refined, high-strength, low thermal deformation, wear resistance, long life.
Batte hydraulic screen changer manufacturers screen changer can be used with various types of imported or domestic extruders for plastics drawing, blown
film, color printing Fumo, aluminum-plastic composite, BOPP , EPS, EPE diaphragm and twin-screw granulation production, with hydraulic-powered convenient filter
replacement.
Batte hydraulic screen changer manufacture automatic screen changer, semi-automatic, automatic or semi-automatic changer, production, energy conservation, energy.

Relative Articles:
◆Top Sale Continuous Screen Changer For Blown Film Machine
◆Automatic Belt Continuous Screen Changer
◆Polymer Continuous Screen Changers
◆Double Piston Continuous Screen Changer