Tel: +86 371-67991755
Fax: +86 371-67993277
Sales direct: +86 15838331071
E-mail:sales@battemachinery.com
http://www.continuousscreenchanger.com
24h services
Continuous flow screen changer
The continuous flow screen changer is fully utilized in conjunction with gear pump. Our
hydraulic screen changer
can be made without die pressure fluctuation. Continuous flow screen changer of pressure up to 50mpa, sealing technology and flexible high press

ure seal with the growth of the melt pressure increases, automatically compensate for wear and tear, never leakage of materia.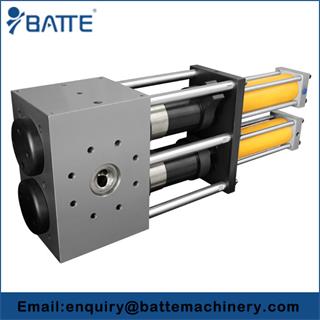 Continuous flow screen changer system Applications:
1. For a variety of granulator, extrusion, blown film machine, drawing machine, sheet extrusion machine, pipe extruder. Application of different types of screen changers, to meet different applications and process requirements.
2. Ceramic extrusion lines.
3. The polymer (plastic and rubber) molding production lines, including blown film, cast film, sheet, pipe, profiles, plastic recycling, granulating, drawing, underwater pelletizing, masterbatch pelletizing, and extrusion laminating line .
4. From plastic resin synthesis reaction apparatus to extrusion granulation production lines bulk particles.
Double pillar continuous screen changer or plate screen changer from Batte machinery cost is very low, and superior performance. Can quickly switch the filter in 0.4 seconds, a small change in the flow of material, the material does not leak high voltage capability, large filtration area, simple operation, for network fast, high wear resistance, high compressive strength, high-precision filter designed to effectively improve the quality of the area and filtering. Temperature controlled at about 300 ℃, does not affect the use of performance can be achieved non-stop fast changer. Widely used in plastic sheets, plates, films, tubes, extrusion granulation, and other production lines. Common Configuration: changer body (including cylinders, heating) + hydraulic + electronic control box (optional).
Relative Articles:
◆Single plate hydraulic screen changer with four working station
◆Dual bolts screen changer
◆Continuous Screen Changer Filter Ribbon
◆Extruder Pump Screen Changer