Tel: +86 371-67991755
Fax: +86 371-67993277
Sales direct: +86 15838331071
E-mail:sales@battemachinery.com
http://www.continuousscreenchanger.com
24h services
Single plate hydraulic screen changer with four working station
Single plate hydraulic screen changer with four working station consist of the changer body and four independent filter blocks, for pre-filling function of the net, through four independent stations and exhaust port means that preparations screen after the formal entry into the main channel, excluding the material entrained air, reduce scrap rates. Achieve continuity and non-fluctuating screen changer work.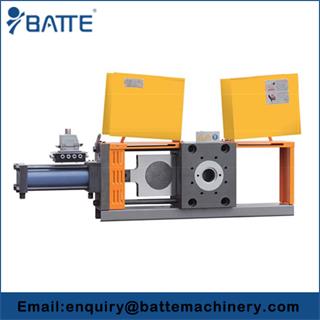 Single Plate Hydraulic Screen Changer Working Principle:
This type of hydraulic continuous screen changer used in plastics extrusion system melt circulating purification device filtering. With a square drive for four filter placed between the body and the feed end to the discharge end of the body, arranged sequentially to each other. In the screen frame assembly transport role, through the work of driving device, the discharge end of the financial melt on the body cavity to realize feed formula to replace the old filter channel. Melt meet uninterrupted purification purposes. Basic wherein: feed, the discharge end of the body and the filter plate snug fit.
Batte Machinery Zhengzhou Co., Ltd. specializes in producing all kinds of non-stop screen changer, hydraulic screen changer, automatic screen changer and polymer changer.