Tel: +86 371-67991755
Fax: +86 371-67993277
Sales direct: +86 15838331071
E-mail:sales@battemachinery.com
http://www.continuousscreenchanger.com
24h services
Automatic Belt Continuous Screen Changer
Automatic belt continuous screen changer use with belt-type continuous screen,Which is a machine that filters out impurities in the polymer.Screen Changers for Polymer Melt Filtration ia an automatic screen changers.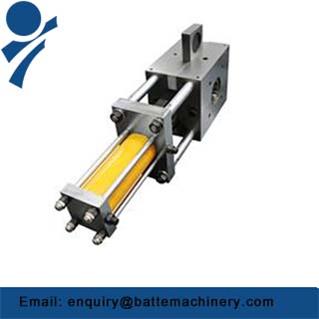 Automatic belt continuous screen changer characteristics:
1.Involves automatic replacement of clean and fresh filtering screen at change.
2.continuous screen changersystems are able to change screens/filtration media on the fly.
3.Continuous belt, single and dual piston, and multi-segment rotary disc types comprise.
5.It works well even under the high temperature of 400℃and high pressure of 40-50Mpa.
ype
Screen D&A
Overall dimension (mm)
Ф(mm)
cm2
L
W
ZB-SP-R-80
Ф60
28
180
170
ZB-SP-R-100
Ф80
50
220
200
ZB-SP-R-120
Ф100
78
250
220
ZB-SP-R-155
Ф130
133
320
220
ZB-SP-R-170
Ф145
165
370
310
ZB-SP-R-195
Ф165
214
400
380
ZB-SP-R-220
Ф180
254
440
410
Automatic belt
continuous screen changer
are used in all fields of extrusion, including sheet and film, blown film, blow molding, filaments and fibers, pipe and profile, pelletizing, BOPP and BOPS. Used with all thermoplastics, including Polyethylene (LDPE, LLDPE and HDPE), Polystyrene (PS), Polycarbonate, ABS, Flexible PVC, Nylons (PA 6, PA 66) and PET as well as a wide range of engineering resins.

Relative Articles:
◆Automatic Continuous Screen Changer Extrusion
◆Continuous Rotary Screen Changer
◆Extruder Pump Screen Changer
◆Continuous Loop Filter Screen Changer