Tel: +86 371-67991755
Fax: +86 371-67993277
Sales direct: +86 15838331071
E-mail:sales@battemachinery.com
http://www.continuousscreenchanger.com
24h services
Continuous Rotary Screen Changer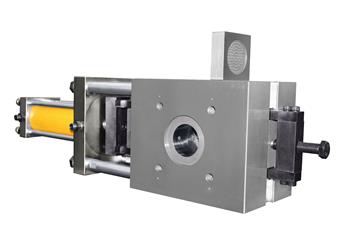 Continuous Rotary Screen Changer Characteristics:

1.Large filtration reduces screen changing frequence,improved production efficiency.
2.Superior sealing system completely eliminates polymer leakage.
3.Automatic & continuous screen changer
4.No interrupting product, no waste, save energy
5.High output and high quality
6.The temperature is controlled by temperature controller.
Continuous Rotary Screen Changer Types:
Working oil pressure: 10 ~ 20MPa
Fuel tank capacity: 50L
Filter element design pressure: 30MPa (special 60MPa)
Pump motor power: 2.2 ~ 7.5kw
Temperature range: 0-400 ℃
Material Pressure Control Range: 0-40MPa
Continuous rotary screen change can be fully ruled out gas, to ensure product quality, increase product stability.low thermal deformation, wear resistance, long life.
Relative Articles:
◆Looking for slide plate continuous screen changer for plastic extrusion machine
◆Continuous Screen Changer For Extruder
◆Continuous Hydraulic Screen Changer For Extruder
◆Double Piston Continuous Screen Changer