Tel: +86 371-67991755
Fax: +86 371-67993277
Sales direct: +86 15838331071
E-mail:sales@battemachinery.com
http://www.continuousscreenchanger.com
24h services
All Screen Changer Products
Screen changer products include Continuous Screen Changers, Discontinuous Screen Changers, Gear Pumps, loss in weight feeders, control systems, etc.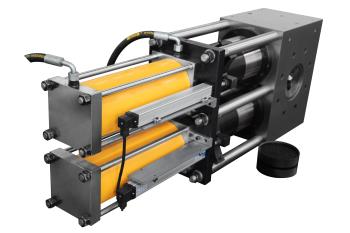 Discontinuous Screen Changer
Continuous Backflush Screen Changer
Screen Changer Products
Normal operation:
2 screen cavities in the process
Screen Changer Products
Benefits:
1.reduced downtime & scrap can increased production due to
2.safe operation, as well as reduced maintenance
3.Automated control with accurate, repeatable screen changes
As an advanced screen changer products manufacturer of global extrusion technology , Batte supply of extrusion die, screen changer, melt pump, feeder industry is suitable for almost all processes and materials,Which can be used for polymerization, compounding, film, pipe, sheet and pelletizing processes. And our price is below than JC Times Group.

Relative Articles:
◆Continuous Screen Changer For Extruder
◆Continuous Hydraulic Screen Changer For Extruder
◆Manual Control Screen Changer
◆Double Piston Continuous Screen Changer