Tel: +86 371-67991755
Fax: +86 371-67993277
Sales direct: +86 15838331071
E-mail:sales@battemachinery.com
http://www.continuousscreenchanger.com
24h services
Continuous Screen Changer For Sheet Production
Continuous screen changer for sheet production can rapidly and all kinds of plastic, adhesive, coating material mixture of products form a complete set of production line, used for material blending filter is especially suitable for stretch film and plate, plate production, good effect, no waste to increase productivity and energy saving.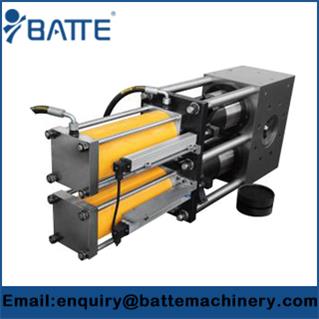 Performance characteristics of Continuous Screen Changer For Sheet Production:
1.Special seal structure design, the design adopts the shuangliu, twin wire can be used at the same time
2.Screen change, no interruption of material flow, don't interrupt products, truly achieve the non-stop in the screen.
3.Improve the quality of the products to meet customer higher capacity, more high quality production requirements.
Benifits of Continuous Screen Changer For Sheet Production:
2.Leak-free mold of operation
3.Large filtration area meet the high output extrusion machine
4.Customized design adapters
5.venting groove discharge the gas mixed in the polymer melt
6.Simply controll by a easy operated control handle
7.Reasonable price and proved technology

Relative Articles:
◆Top Sale Continuous Screen Changer For Blown Film Machine
◆Automatic Continuous Screen Changer Extrusion
◆Extruder Pump Screen Changer
◆Continuous Screen Changer For Extruder