Tel: +86 371-67991755
Fax: +86 371-67993277
Sales direct: +86 15838331071
E-mail:sales@battemachinery.com
http://www.continuousscreenchanger.com
24h services
Looking for slide plate continuous screen changer for plastic extrusion machine
We are producing and exporting
slide plate continuous screen changer
for
plastic extrusion machine
.It is a type of slide plate type screen changers. It consists of main body, sliding plate, heaters unit and hydraulic unit with accumulator.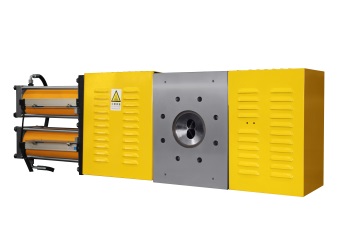 This series of screen changer consists of four independent breaker plates, each with openings of same diameter and screen pattern.
The rotation of these specially treated alloy metal plates gives superior sealing ability and durability. This type of screen changer has slight flow fluctuation during screen changing.
This type slide plate screen changer is used for most thermoplastics extrusion process such as sheet, plate, pipe, film, blow film, wire, cable, profile, granulation and so on.

More information:
Relative Articles:
◆Slide plate screen changer
◆single plate continuous screen changer
◆Plastic Screen Changers Of Single Slide Plate Type
◆What is the screen changer?