Tel: +86 371-67991755
Fax: +86 371-67993277
Sales direct: +86 15838331071
E-mail:sales@battemachinery.com
http://www.continuousscreenchanger.com
24h services
Single Plate Continuous Screen Changer
Single plate continuous screen changer also can be called slide plate double working station continuous screen changer,Which is designed to maintain constant pressure during the polymer processing. This type of plate type screen changer work alternately for quick screen changing operations.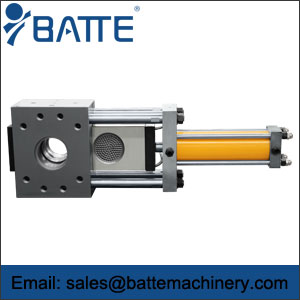 Single Plate Continuous Screen Changer Features:
2. With double working units
3. Reasonable price
4. Advanced technology
5. High quality
6. A type of
hydraulic screen changer
Technical data:
Type

Output

Kg/h

Size (mm)

Screen size

Heating tube

L1

L2

L3

L4

Ф(mm)

cm2

V

KW
Type

Output

Kg/h

Size (mm)

Screen size

Heating tube

L1

L2

L3

Ф(mm)

cm2

V

KW
Slide Plate Double Working Station Continuous Screen Changer Characteristics:
1.Two cylinder hydraulic screen changer works simultaneously: when one net works, the other one replaced.
2. Exhaust system device can fully defuse the gas mixed in the materials and improve the product quality.
3. The hydraulic screen changer is designed with elliptical bore which doubles the filtering quantity, and ensuring high output.
Batte plate screen changer is made of high-performance steel,special processing and heat treatment methods for improved reliability and durability.The continuous screen changer can meet any polymer materials, high temperature, high pressure, high extrusion production, can be used with different standards extruder, do not stop for the network, the product is not interrupted, do not leak.We also manufacture
continuous double-piston backflush screen changers
and automatic belt mesh screen changer for you.
Relative Articles:
◆Double pillar type double continuous screen changer
◆Slide plate screen changer
◆Automatic Belt Mesh Continuous Screen Changer
◆double plate type double working station screen changer