Tel: +86 371-67991755
Fax: +86 371-67993277
Sales direct: +86 15838331071
E-mail:sales@battemachinery.com
http://www.continuousscreenchanger.com
24h services
Continuous Screen Changer For Extruder
Continuous screen changer for extruder usually use as melt filtration in the extrusion pump. So it is also be called automatic melt filtration extrusion.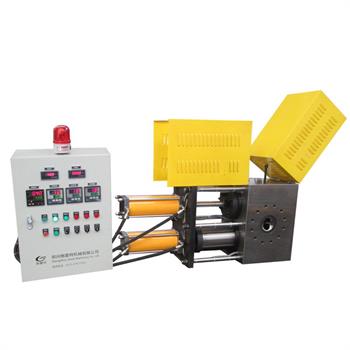 Continuous screen changer for extruder Characteristics:
1.No need to stop the working machine when changing the screen, no material explosion, noiseless, no material leakage, or production interrupt while working.
2.This continous screen changers are characterized by the convenience and safety to change the filtering screen with it. It is time-saving to install the filtering screen with the screen changer, and there is no need to manually disassemble the machine, adjust the PARA-position screen, or install the lock pact between different screens, thus the screen changing operation will be reduced by 90%.
Continuous screen changer for extruder Application Fields:
1.Applicable to all kinds of plastic products.
2.Applicable to the production line of chemical fiber, rubber, collosol, adhesive, coating and finishing materials and other blending agent products, used for filtration of the material mixture.
Batte is one of the biggest screen changer manufacturer in China. We also supply screen changer for recycling processes and gear pump for extrusion. In addition to providing services and spare parts for our own pumps, we also provide comprehensive service packages for melt pumps produced by other manufacturers.
Relative Articles:
◆How to work of this kind of double piston continuous screen changer
◆Slide plate screen changer
◆automatic mesh belt type continuous screen changer
◆Manual control continuous screen changer