Tel: +86 371-67991755
Fax: +86 371-67993277
Sales direct: +86 15838331071
E-mail:sales@battemachinery.com
http://www.continuousscreenchanger.com
24h services
hydrarlic screen pack changer
The hydrarlic screen pack changer is fitted between the end flange of the extruder and the die. A cassette holding a reel of screen filter media is attached to the side of the AutoScreen block. The screen change is regulated by a pre-set timer or optional controller based on pressure differential, using two Dynicso pressure transducers.
The hydrarlic screen pack changer moves across the flow of plastic and a fresh screen enters as the spent filter screen exits; removing the impurities from the extrudate.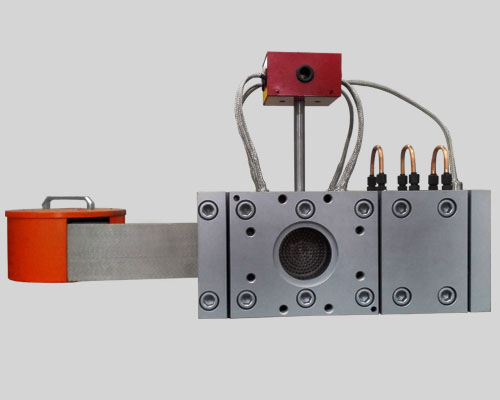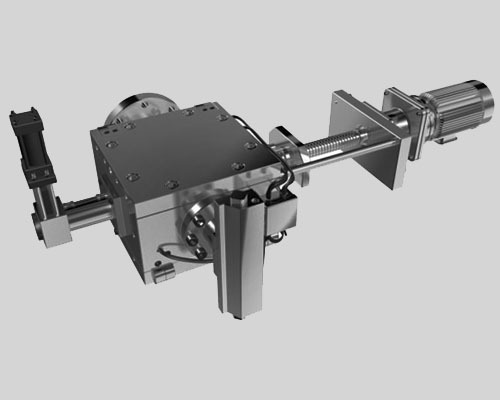 The stainless steel filter hydrarlic screen pack changer is in roll form and is easy to replace. The life of the 66-foot or 125-foot screen roll can exceed a year when the level of contamination is low. The amount and size of containment in the melt determines the screen advance frequency.
For fast color or material change, a manual override button is provided. Constant pressure "drop" allows for uninterrupted extrusion and steady process conditions. The one-piece precision-machined body is completely leak proof with no bolts to tighten.
Batte Machinery Zhengzhou Co.,Ltd is a screen change manufacturer,supply the most professional products of Manual screen changers,hydraulic screen changer,automatic screen changer in the world.
Technical data:
Type

Output

Kg/h

Size (mm)

Screen size

Heating tube

L1

L2

L3

Ф(mm)

cm2

V

W

ZB-ACB-50

30~85

150

165

540

Ф50

20

230/400

5200

ZB-ACB-70

75~200

160

170

560

Ф70

38

230/400

5400

ZB-ACB-90

100~290

170

185

580

Ф90

64

230/400

5800

ZB-ACB-100

130~350

180

215

605

Ф100

78

230/400

6200

ZB-ACB-120

190~500

185

230

645

Ф120

113

230/400

6500

ZB-ACB-150

350~800

200

265

700

Ф150

176

230/400

7200

ZB-ACB-180

450~1200

220

305

760

Ф180

254

230/400

8200