Tel: +86 371-67991755
Fax: +86 371-67993277
Sales direct: +86 15838331071
E-mail:sales@battemachinery.com
http://www.continuousscreenchanger.com
24h services
The backfl ush screen changers continuous
The backfl ush screen changers depend on the sturdy and proven double-piston design. With two hydraulic rotary-lift cylinders, the patented new development comes with a mostcompact design. The adjustable backfl ush volume and pressure permits noteworthy screen cleaning and multiplies the volume of cleaning cycles. An integrated diverter valve enables to release the extruder start-up melt. The straightforward and strong design, without any additional sealing elements, ensures a dependable and leakage-free continuous operation.
All the filtration portion of the combined four screen cavities is accessible for production while filling of the displacement-piston cylinder occurs. Two outlets for backflushed material are located on the bottom in the unit, with discharge automatically controlled through the movement in the screen-bearing pistons, producer says.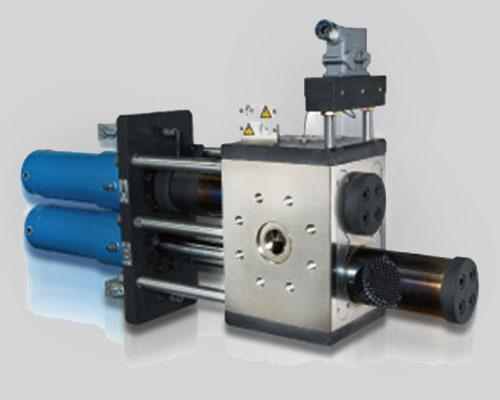 When compared to the earlier V-Type system, Nordson says, the height from the new V-Type 3G screen changer has become reduced by 30 percent, permitting less extrusion height just one displacement piston is used for backflushing as an alternative to having one for each and every screen cavity and hydraulic piping has become optimized.