Tel: +86 371-67991755
Fax: +86 371-67993277
Sales direct: +86 15838331071
E-mail:sales@battemachinery.com
http://www.continuousscreenchanger.com
24h services
continuous belt screen changer
Automatic mesh belt type continuous screen changer is a type of automatic belt mesh screen changer,Which through the use of melt pressure or time control for plates.
Manual and hydraulic type screen changers are the most common found in extrusion and polymer production, with both causing an interruption in the melt flow during screen change. Continuous belt, single and dual piston, and multi-segment rotary disc types comprise the majority of continuous screen changers. Large area or candle type filtration systems are available in single vessel-discontinuous, or dual vessel-continuous configurations. Continuous systems are able to change screens/filtration media on the fly, with no process interruptions or negative effects on the end product.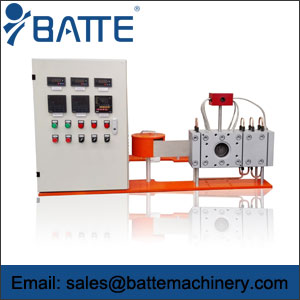 Batte Mechanical Zhengzhou Co,.Ltd. is a professional manufacturer of Melt pumps,Loss-in-weight Feeder,Screen changer. The main products are Melt pump,Loss-in-weight Feeder,Screen changer and gear pumps ,metering pumps,Batte has accumulated abundant experience on the application technique of melt pumps since we manufacture pumps professionally. Recently according to the development trend of melt pumps application all over the world, especially in the field of precise plastic extrusion, we have done extensive research on the pump operation performance, practical function, equipment structure and control technology and achieved regular achievements.