Tel: +86 371-67991755
Fax: +86 371-67993277
Sales direct: +86 15838331071
E-mail:sales@battemachinery.com
http://www.continuousscreenchanger.com
24h services
xps extrusion continuous screen changer
xps extrusion continuous screen changer
XPS extrusion continuous screen changer is a new type of screen changer device designed by Bart on the basis of actual production needs. As the first-class screen changer manufacturer and manufacturer in China, Bart has been leading the continuous development of screen changer industry. What are the bright spots in the XPS Extruder-specific screen changer developed by Bart, which will be described in detail below.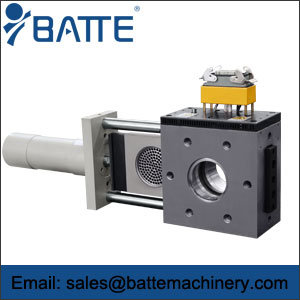 XPS extrusion continuous screen changer research and development, access to a number of patented technologies; it uses self-locking multi-station structure and automatic positioning and orientation system, the preheating of the filter and the old filter automatically discharge the dirt, Network for voltage regulation and temperature balance, non-stop, no leakage, no fluctuations is its salient features. Butter screen changer manufacturers can filter the melt composition, providing different levels of extruded plate dedicated corrosion-resistant screen changers. Butter new generation screen changer, its novel structure, unique technology; for screen changer material made of high quality alloy steel, together with special processing technology and ultra-precision processing means to enable a new generation of screen changer performance to the international leader Level, for the user to create greater economic benefits. The company is located in:
After years of development, Bart's screen changers are adopted by thousands of domestic and foreign units and are well received and favored by the majority of users.